By Tracy Mapfumo
One can never have enough of the many wild fruits available in Zimbabwe! The false wild medlar (Vangueriopsis lanciflora) is an astounding fruit. In Shona the wild medlar is called matufu and in Ndebele it is called umviyo or umsomosomo. In Africa a number of medlars exist, but V. lanciflora is considered the tastiest of them all. The fruit has such an appealing flavour that the trees are left standing in fields when the land is cleared for crop cultivation. The sweet and refreshing taste is likened to a combination of apple and plum.
The wild medlar is commonly found in sandy, unfertile soil in woodlands, wooded grassland, or rocky outcrops. It is dominant in central, eastern and southern Africa (Botswana, South Africa, Mozambique, and Zimbabwe). In the southern parts of Zimbabwe, the tree grows up to three metres and in the northern parts it grows up to twelve metres. The tree has good potential for domestication. It can be easily propagated from both seed and cuttings. The wild medlar tree bears an oblong plum like fruit which turns from green to light brown when ripe. Fruits can be harvested from December to April.
The fruit is very rich in vitamin C and minerals, but there is need for nutrition research on this species. The leaves are also known to have medicinal benefits. 
The fruit can be eaten processed or unprocessed. It can be dried for utilization in winter. It can then be boiled, and the water used to flavour other food such as maize meal porridge. The pulp can be used to make an apple sauce substitute. The fresh fruit can also be used to make beverages.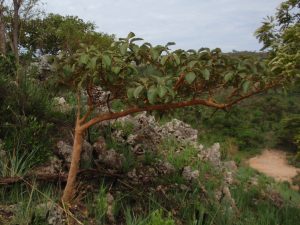 For more information on indigenous fruits, check www.bio-innovation.org and www.naturallyzimbabwean.com, or visit us at our offices (20 Garlands Ride, Mt Pleasant), the Maasdorp, or Amanzi markets.