By Rufaro Mangwende
A love of reading will serve your children for a lifetime. They will become better students and writers, have a better vocabulary, and know more about the world around themselves. Libraries are a great way to get them started down this path.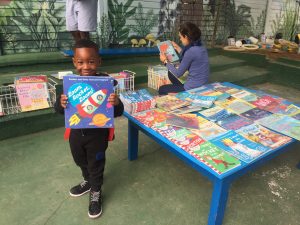 My husband and I relocated back to Zimbabwe in 2011, after having lived in England for 10 years.  Having read to our children at an early age and seeing the benefits, we found the need for other children to have access to books for affordable fee. Both our elder children began reading voraciously, and our daughter Paris had a reading age of 10 when she was 5 years old. Her last reading age test at Convent Primary in Harare when she was 9 years old was 18.7. She skipped grade 2 and has been a top academic in the school, as well as a Zimbabwe national gymnast. Paris is starting high school this year at Hellenic Academy and is possibly the youngest Form One in Zimbabwe at 11 years old. We believe this is due to how much she reads: the exposure she gets to new information, and the interaction with complex words and ideas.
Allen and I started Books on wheels in 2014. Books on Wheels provides a library service to schools. There is a wide range of materials to loan including fiction and nonfiction children's books. Our selection of books is constantly renewed. We have books suitable for children aged 0 – 9 years old.
We have to date bought over 2000 new books for the library which we have covered in thick plastic and the kids have learnt to look after them well. Allen and I are the librarians, with one other helper. We exchange books for nearly 400 children a week. Paris is also very involved in reading to some young members at the library and sometimes has a very heavy school bag when she takes books to school to exchange for her friends!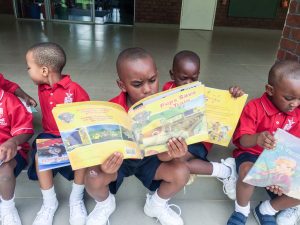 Our mobile librarian goes to the schools once a week on a set day with a selection of books. The teachers or the librarian help the children select and exchange books. The book is placed in a provided book bag ready to take home. Children also borrow books from the Books on Wheels Library in Ballantyne Park for $10 a month – unlimited exchange (they can exchange a book everyday). The membership fee per term is $25 for new members and $20 for existing members. The fee covers: buying more books, maintenance (plastic covers), transport to schools for the mobile library, a book bag per child, and wages for our library helper.
We are expanding the mobile library service in Harare. We want to be able to provide the service to nursery schools with less privileged children. We are introducing a "sponsor a child" for membership – $20 per term. We will acknowledge and receipt the fee and details of the specific child and their school will be forwarded to the sponsor.
In the future, we plan to expand to most areas in Harare, encourage sponsorship for children who can't afford the library fee. As well as this, we want to start weekly community reading outreach in high density areas.
We would also greatly appreciate donations of your children's unwanted books as listed below:
Used books – good condition
New books
Children's novels (paper backs only)
Children's picture books (paper backs only)
Books for ages 0 – 16
Books can be delivered to: Books on Wheels, 1 Chisholme Road, Ballantyne Park, Borrowdale, Harare.
Contact us on 04-884241, 0775-293830, or 0779-550722 (WhatsApp for both mobile numbers).
You can also contact us through our Books On Wheels Facebook page.
Let's get the nation reading!
Many thanks
Rufaro and Allen