By Tracy Mapfumo
Does the sausage tree bear barbeque sausages? Absolutely not!
Kigelia africana is a tropical tree found only in Africa and is widely grown and distributed in Southern, Central and Western Africa, from Eritrea and southern Chad to northern South Africa, and west to Senegal and Namibia. Kigelia can be found along riverbanks, streams, floodplains, and in open woodland.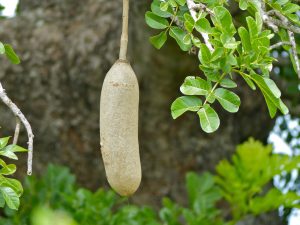 The tree bears an unusual grey, sausage-shaped fruit that gives it its common name: the sausage tree. The fruit hangs from rope-like stalks and can reach over a metre in length and weigh as much as 10kg. The sausage tree has a long history of use by rural African communities especially for its host of medicinal properties. The fruit is borne from November to June. However, the fruit is often shed before they reach full maturity and if collected – the seed may subsequently need after-ripening.
Kigelia contains numerous secondary metabolites, most of which have tumour-reducing cytotoxic activity, while others are known to help with a range of skin conditions, notably eczema. The fruit is known to have anti-microbial properties, including antibacterial, antifungal, and antiviral. Research supports its anti-inflammatory and antioxidant properties.
The traditional uses of the Kigelia fruit have been both medicinal and cosmetic.
Commercial uses of Kigelia fruit extract include anti-ageing and regenerating skin care products, after-sun formulations, and skin tightening cosmetics. When applied topically to affected areas, it can treat acne, eczema, psoriasis, sunburn, solar keratosis, skin pigmentation and even certain types of skin cancer. Its anti-inflammatory properties are useful in preparations to treat rheumatism and other muscle and tissue disorders.
The tree has large maroon flowers which attract bees making it a good source of bee
forage. The sausage tree provides good dense shade, however it is not advisable to park vehicles underneath the tree as the dropping fruit can cause considerable damage. Despite the flesh of the fruit being highly poisonous, the fruit can be carefully prepared for consumption by drying, roasting or fermentation. Roasted fruit is used to flavour beer and aid in fermentation processes.
Rising awareness among consumers about the benefits associated with Kigelia extract is expected to fuel the demand for Kigelia extract by the cosmetics and pharmaceutical industry.
For more information and products check www.bio-innovation.org and www.facebook.com/GugulethuZim, and visit us at our office (20 Garlands Ride, Mt Pleasant) or Maasdorp and Amanzi markets.