By Morag Flight
Cordylines, or Cordyline fruiticosa, had gone out of fashion but are making their way back.
Often confused with Dracenas, they are a lovely statement and make for good floral arrangements. They consist of broad leaved varieties, as well as thinner ones. 
The name Cordyline comes from the Greek word kordyle, meaning "club," a reference to the enlarged underground stems. The leaf colors of the cordyline or Hawaiian Ti plant range from glossy green to reddish purple to a combination of colors (red, purple, white, or yellow) The plant can produce red or yellowish flowers that emit a sweet fragrance. Cordyline plants are woody, monocotyledonous flowering plants. The leaves range from about 30 – 70cm in length and about 10 – 15cm in width.
The brighter coloured ones are usually less hardy than the plain ones. They can create an instant exotic touch in your garden, especially if you use the purple and variegated ones. Once established, they are a good wind resistant plant. However, they hate being waterlogged. Whilst generally resistant to pests and diseases, Cordylines can get leaf spot. If they get affected, remove the diseased leaves to stop it spreading.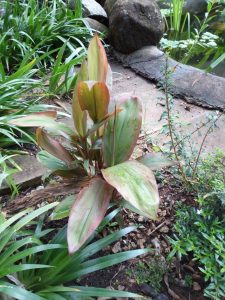 Generally Cordyline terminals grow in shrub form with a straight trunk. But sometimes they grow in clumps by suckering from the enlarged tuber-like rhizomes. The flowers which the plant produces are half an inch wide and grow in clusters in 12-inch panicles. The "fruit" comes in the form of berries and are red in color.
See below on how to propagate Cordylines. They are also easily grown from seed.
Propagation:
Remove well rooted suckers or form cuttings.

Take a stem from a mature plant and cut it into approximately 3 – 5 inch sections.

Remove all leaves and place the cuttings on a layer of sand. The stem's eyes will grow into shoots.

When shoots have about 4 – 6 leaves, place in potting soil.