By Tracy Mapfumo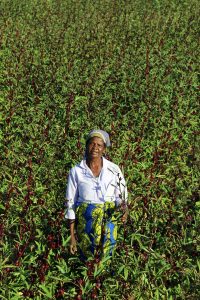 Hibiscus sabdariffa, commonly known as Rosella or Jamaica sorrel is a versatile plant known for its edible dark red calyces. Although it is native to Angola, China and Thailand are currently its largest producers while Sudan is regarded as the world's best Rosella producer. Mexico and Jamaica, Senegal, Mali, Egypt, and Tanzania are also important suppliers but consumption in these areas is mostly domestic. In Zimbabwe, it grows well in dry areas such as the Binga District.
Rosella grows across a wide climate range from arid, dry temperate regions through to subtropical and tropical regions. Even though it can tolerate a little shade, Rosella grows best in field conditions with loamy, well-drained soil under full sunlight. Rosella takes between four to six months to mature. The fruits are harvested fresh, decoded (seed capsules removed using a simple hand-held tool) and then dried. On average, the yield is about 10 tonnes per hectare.
Rosella calyces are high in Vitamin C, calcium and iron. They are also known for their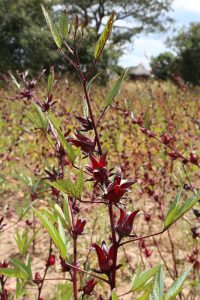 antioxidant, antibacterial and anti-inflammatory properties. They are rich in organic acids which include hibiscus, ascorbic, tartaric and citric acids. The dark red pigments which are referred to as anthocyanins also contribute to the nutritional value of Rosella while its seeds are high in protein. Rosella is generally a health tonic used to treat appetite loss, colds, coughs and circulatory ailments (reduce high blood pressure). It is known to be a gentle expectorant, laxative and diuretic.
The Rosella calyces have quite a number of uses, both in their fresh and dry state. Their sweet and sour taste makes them popular as a herbal tea. The calyces provide a natural colourant for use in food and alcoholic and non-alcoholic beverages. They are also used for making wine, juice, jam, jelly, syrup, spice, gelatine, ice cream and flavours or filling for pies, tarts and other desserts. The calyces can also be chopped and added to fruit salads. The young leaves and tender stems are eaten raw in salads, or they can be used as spinach. They are also added to curries as seasoning. The seeds are considered excellent feed for chickens.
Today, Rosella is attracting the attention of food and beverage manufacturers and pharmaceutical concerns. The calyces are increasingly exported to the United States of America and Europe where they are used as food colourings to replace synthetic dyes. Germany is the main importer.
For more information, check www.bio-innovation.org and visit us at our office (48 Harvey Brown, Milton Park) or Maasdorp and Amanzi markets.