DZIKWA TRUST ORPHANS DISCOVER THE WORLD OF COMPETITIVE CHESS
By Nyaradzo Manyanga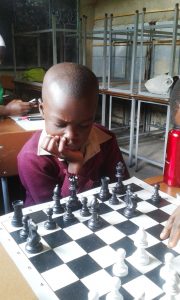 Acclaimed French philosopher and scientist Blaise Pascal once said that "chess is the gymnasium of the mind." Challenging the minds of 40 children at the Dzikwa Trust Chess Club is coach Nyaradzo Manyanga who is assisted by Tendai Mikioni. The newly established club began in January 2018 at the Dzikwa Activity Centre in Dzivarasekwa with the eager chess students practising during the afternoons on one chess board.
Quickly mastering the basic principles and strategies of the game, 12 of the club's rising chess players competed in their first tournament, the Knights Mini Tournament held on the 10th of March. This was a district level chess competition sponsored by the Knights Chess Academy which attracted participation from seven schools. Fireworks were the order of the day as the players courageously fought in the battlefields of their minds to outfox their competitors.
The Dzikwa Trust players were grouped into three groups and managed to each play four rounds. Taking a second place finish in the Group A/Prestige section was Charlene Murima who won three out of her four games. Richmond Zevezai, Isheanesu Hodzi and Garikai Handitye competed in the Group A/Open with Garikai taking top honours and Richmond and Isheanesu finishing third and sixth respectively. Aiming to promote the development of the children's chess talents was Group B. The Dzikwa Trust Chess Club beginners played to the best of their abilities in this section with Tinevimbo Mushambadzi scoring a third place finish.
Impressed by their displayed passion and talent for the mind-game of chess during this tournament, Mr. Madamombe, Chairperson of Zimbabwe Chess Foundation donated five chess sets to promote the game at Dzikwa Activity Centre. This has greatly assisted in further promoting the game and has seen the club's membership grow from 40 to 70 players. The players are looking forward to sharpening their skills through playing in more tournaments during 2018.
If you would like to support the club and its rising players, please contact Dzikwa Trust Secretary Priscilla Takawira on +263 24 2217455/2216183, +263 772 409519 or Nyaradzo Manyanga on +263 782 146972