How this startup is consuming Harare
By Lucy Kirkman
How often are you hungry? Often, probably! Munch is the only delivery service in Harare that allows you to order food and get it delivered to you wherever you are.
The founders, Tatenda Jakarasi and Farai Chiumba, saw the need for an innovative and
reliable food delivery service, and created Munch in April 2017. Munch has partnered with over forty restaurants in Harare, and offers an app and online ordering and delivery of food and drink. "We are essentially a tech and logistics company," Tatenda explains. "We love food, and we wanted to create a way to connect people to their favourite restaurants, cutting out the hassle of traffic and time." Munch has grown from a humble startup to a significant feature of Harare's dining culture. As well as this, Munch is providing employment for a host of people, especially for high school leavers and other young people as drivers. Their drivers are called Munch Martians because, according to Tatenda, "Their service is out of this world!"
Tatenda is energised when talking about the company: "We are bringing the convenience of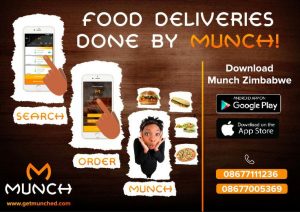 first-world technology to Zimbabwe, and allowing young people to participate and get a head-start in the working world." And not only do they employ people for deliveries, but also for the logistics and technological side of the business. They saw the need to create opportunities for intelligent, hardworking youngsters to have a chance at doing well here, in Zimbabwe, rather than going abroad for work opportunities. "We want to give them an opportunity to earn their own money, and get something on their CV. We want to provide them with a platform to go on to do other things, and inspire them to start their own businesses."
As a business owner, Tatenda says that the most important thing is genuine customer appreciation. The age-old saying "the customer is king," always applies in the service industry. As well as customer care, Tatenda emphasises the importance of having a good team. "We have people who are passionate about their work. I want to hire guys who are even more passionate than I am."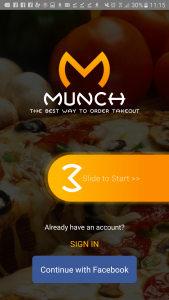 Not only has Munch made a name for itself in Harare, but they have expanded to Vic Falls, and will soon be in Bulawayo. And, more exciting news, they are going to be doing grocery deliveries within the next couple of months. Munch is planning on becoming your one-stop app for all things food and drink related. Stay tuned for these new developments, and keep Munching!
Munch delivers food from 9am to 9pm everyday, and drinks on Friday and Saturday until 1am.
Get the Munch app for Apple or Android, or order online at www.getmunched.com.