Blood is always in high demand, as it is required for all kinds of treatments and almost every type of surgery. It literally saves lives. Our National Blood Service is conveniently located inBelgravia, and is one of the friendliest health centres in Harare. The nurses and administrative staff are welcoming and efficient, making any trip to the NBS as painless as possible. Once you have registered with the NBSZ, you are only required to fill out a short health history form. There is usually no queue, so this process takes a few minutes. Before giving blood, a nurse will check your weight, blood pressure, and blood iron content with a tiny prick on the thumb. If you meet the requirements, you're ready to go! Giving blood is not as bad as you think – the only potentially painful part is the needle insertion. This takes one or two seconds (looking away helps)! After that, you just sit in the chair and relax. After you're done, one of the staff will bring you a cup of tea, or a fizzy drink, and a biscuit or cupcake. It is usually a good idea to bring a friend with you to drive you home, as you may feel a bit faint for a while after. Everyone's recovery time varies, but it's better to be safe than sorry!
There is no way to manufacture blood – the only way for hospitals to collect blood is through donations. Every drop counts.
Giving just one pint of blood may save up to 3 lives.
Studies have shown that there are health benefits to giving blood, which include reducing the risk of chronic diseases such as cancer and strokes, heart attacks, and liver diseases.
The NBSZ Mission: "We help save the lives through provision of safe blood products and services that meet customer expectations."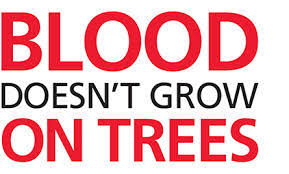 Who can give blood?
All persons who are healthy and have no risks that can be transmitted to the recipients of their donated blood
People between 16 and 65 years of age, and if already a repeat donor at 65yrs, this can be extended dependent on medical assessment
If weighing 50kgs or more and meets the guidelines andcriteria
A person who is 50kgs or more has a total blood volume of 4 – 6 litres. The donation itself takes 10 – 15 minutes, and a total of less than 30 minutes of your time. The volume taken is less than
half a litre (450ml). Donations can be safely made every 3 – 4 months, and even less if monitored. A health questionnaire on lifestyle and a simple check to exclude anaemia is carried out before each donation, to ensure no harm to the donor or recipient.
National Blood Service Zimbabwe
53 Mazowe Street North
Belgravia
Hours: Mon – Fri, 07.45 – 16.45
04-251851, 251854 / 55 / 56
0772-162279 / 80 / 81 / 82 / 83 / 84 / 85