By Kundai Chihambakwe
My eyes took a while to adjust to the darkness while I was wondering how I had no recollection of eight-year old me traversing these stairs in almost darkness, but clearly remembering the caves. I was on a two-day trip to rediscover the 10th most populated city in Zimbabwe; Chinhoyi.
There was very little traffic on the roads which made for a relaxing drive down during which I could truly take in the scenery. Signs such as "Real men use worms" were used roadside to advertise worm sales for those heading to Mazvikadei Dam for a day of fishing. Chinhoyi has blossomed into quite the student town given that two of the country's universities are located there.
My first stop was Chinhoyi Caves located in a Recreational Park managed by the Zimbabwe National Parks & Wildlife Management Authority (Zimparks). The cave fees were an affordable $3 local currency per resident. As the Park guide was filling in my receipt she asked if I would also be going to see the lions. Lions? She proudly smiled and told me about two of their newest additions to the Park and encouraged me to go see them as well for only $5. Her marketing pitch worked.
I started with the Sleeping Pool which is situated in The Wonder Hole. The caves are known as "Chirorodziva" in Shona which means the "Pool of the Fallen". The water is the most incredible and inviting cobalt blue through which you could see the fish swimming. They had been introduced to control the weed growth. The view had me considering taking up scuba diving lessons just so that I too could see what the fish see. Divers have reached 135 meters deep but the actual depth of the water is unknown.
The Dark Cave has had lighting installed to help you navigate your way through the tunnels, but I would still advise going down with a torch and make sure that you are wearing sturdy walking shoes. The stalactites and stalagmites reminded me of Geography lessons in junior school and how we would try to remember the difference between the two. There are a few benches which you can stop to take a quick breather at as well.
My next stop was the lion enclosure which is home to Dingani, 6 years old and Kenya 9 years old. They had both arrived at the Park in December 2018 and will be joined by four female lions throughout the course of 2019. Further planned expansions of the Park include crocodiles and hooved animals, making it a pleasant outing to take with your friends and family.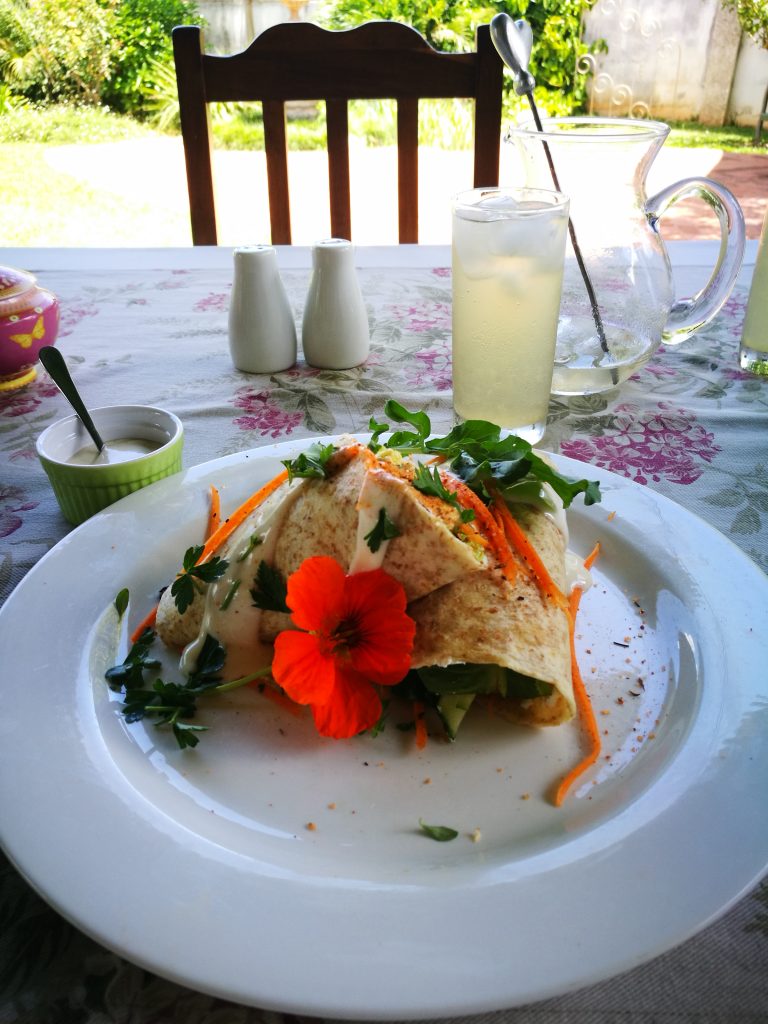 It was now past mid-day and it was quite a warm one, so I went to the recommended Ripe Fig Coffee Shop for some lunch and an ice-cold beverage. My order of a pitcher of homemade lemonade and a Cajun chicken wrap did not take long to arrive and I eagerly tucked in while enjoying the manicured green garden and pigeons playing nearby. Mouth-watering is all I have to say. The homemade mayonnaise made the dish delightfully creamy.
For my overnight accommodation, I had the pleasure of staying at Msasa Guest Lodge which is run by Mark and Wendy Shaw and booked through Mbuso Travels. The Lodge was about a five minute drive from Ripe Fig and is located in the quiet suburbs of Chinhoyi. The recently constructed self-catering lodge has two en suite bedrooms decorated in crisp white, grey and teal and the un-plastered brick walls add a fabulous touch to the farmhouse inspired accommodation.
The rain head shower brought welcome cooling sprays of water to wash away the heat of the day. After dousing myself with insect repellent I retreated to the verandah to enjoy the sunset, view of the lush green garden with well-aged trees and the soothing sounds of some Lillian Love Birds. It turns out that Mark grew up with a passion for birds and now has some which live in the garden of the lodge.
Mark, who also runs a security company, was a very warm host and gave us a tour of his neighbouring lodge which is larger and ideal for group trips has a welcoming "homey" feel about it. We also chatted about some current issues while strolling through the garden. The main house where Mark lives has an inviting swimming pool which guests are welcome to use. Mark also showed us a Spotted Owl which had grown up in the Lodge's garden but had been injured and now spends most of his time roaming around the yard.
Dinner had kindly been prepared which was a treat to get to tuck into a very generous cottage pie accompanied by some buttery carrots and a green salad. A hearty meal at its best. I was out like a light bulb.
Breakfast was provided and was belly-filling and kept me going during the drive to the Mutorashanga Green Pool. There is no signage to direct you to this pool and the roads have some rough patches and you will encounter the occasional mining vehicle. After turning at the ZIMASCO sign you travel for about 40km until you reach the left turn to the pool. I would advise that as soon as you cross the intersection and clinic about 30km in, start counting down 11km which will help you find which turn to take.
The collapsed and since abandoned mine shaft is home to a green-blue pool which you can swim in, but just do not try to swim across. For an adrenaline rush there is a section several meters above the water from which you can jump from. Bring along a packed lunch and enjoy a day of swimming and relaxing at this secluded oasis.
Chinhoyi, a family friendly getaway just an hour and a half out of Harare.