By Lucy Kirkman
Have you heard of Mokoomba? Many Zimbabweans don't know of this vibrant Victoria Falls band, currently on tour in the United States. They are known for their original afro-fusion sound, infusing traditional Zimbabwean music with rock beats that get people moving. I interviewed their manager, Marcus Gora, about where they started and where they are going.
The band members, comprising of Mathias Muzaza, Trustworth Samende,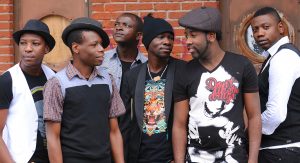 Abundance Mutori, Donald Moyo, Ndaba Coster Moyo, and Miti Mugande, grew up together in the high-density Chinotimba township, and began playing music in their teens after school. They had access to equipment, and opportunities to play gigs through the late band leader Alfred Mjimba. They didn't know how far it would take them.
In 2007, they thought they were getting pretty good, so they started a real band. They entered the Music Crossroads competition, and the judges thought they were pretty good, too. They won the competition, beating competitors from across Southern Africa. As part of the prize, the band recorded their demo album, Kweseka – Drifting Ahead, and the fantastic opportunity of a European tour. After a few hiccups (why is it always so difficult for Zimbos to get visas?) they were on their way. This tour opened their eyes, this group from our little Vic Falls, and showed them what it could mean to become an international band. To their surprise they drew diverse crowds – their music reached across culture and language. And that was only the start.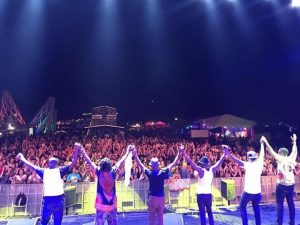 In 2011, Mokoomba produced their first professional album, Rising Tide, an appropriate title as it symbolised things coming together. This album captured the attention of the international music community; in 2013 they won the Songlines Music Awards "Best Newcomer" category. On the back of that, and other, accolades, their world tour took them to over 40 countries spanning Europe, North America, Africa, Asia, and Australasia. They needed a little breather after that, so in 2015 they sat back and drank in some of their local Vic Falls beauty – some well-deserved respite.
Luyando is Mokoomba's latest album, which means "mother's love" in Tonga. So much had
happened for the band, so this album was about coming back to basics and tapping into their roots and traditional wisdom. After feeling carried away by Drifting Ahead and Rising Tide, this album shed some of the rock-band sounds that initially characterised their afro-punk sound, presenting instead simpler acoustic sounds, and interpretations of traditional rhythms. This album was nominated for the Songlines Award for the best "Focused Group."
The Luyando tour also extensively covered the globe – their latest performance was 
in January at the New Ambassador Hotel, Harare. Mokoomba always wanted to be a band that brought people together – this concert in the CBD brought people from all walks of life into one room, regardless of  perceived and real differences. As Zimbabwe has faced various trials over the years they have been a burst of positivity and one of our HIFA favourites, having performed for the festival five times.
Coming from Vic Falls, the band members have been exposed to international influences since the beginning. Maybe that is why they have that special something that makes them appealing to both the local and international tastes – they navigate the fine line between innovation and tradition. Over the years they have performed at internationally famous festivals and venues, such as the Apollo Theatre in New York City, the Roskidle Festival in Denmark, the Montreal International Jazz Festival, the Gwanju World Music Festival in South Korea, and more.
They want their story to encourage young artists. They have always been outside of the centre – coming from Vic Falls rather than the capital, and having mother languages of Tonga, Luvale, and Ndebele – being far from mainstream is one of their strengths. Mokoomba has overcome obstacles to take their music from the streets of Chinotimba across the globe. As Marcus says, "Hope itself is a currency – some of their work is encouraging other young people to pursue their passion." They currently work with local bands and artists (Kweseka in particular), mentoring and raising up a new generation of young dreamers to continue bringing life and music to Zimbabwe and the world.
Check out their website for more information: www.mokoomba.band