The Garden Renovation
As any gardener would attest, gardening is one of life's most therapeutic and relaxing activities. Gardening is intensely rewarding – but not in that 'instant gratification' way that seems to have become the norm in this digital age; its rewards take patience – a rare virtue! In addition to the important lessons that gardening can teach us, the physical aspect of it engages our senses and imagination.
Gardening has been on the Chisi Junior curriculum since 1929, creating generations of pupils who look back fondly on their gardening days. Brian Terry deserves particular mention here, ensuring in days past that gardening was given the attention it deserved, and orchestrating the original construction of the greenhouse. With agriculture an important element of Zimbabwe's national school curriculum, of course, gardening lessons have taken on even more importance. In the past several months, inspired Chisi mum Nicola Johnson, whose area of expertise is agriculture, has thrown herself into this transformative initiative at the school.
What was, just a few months ago, something of a chaotic building site is now a gorgeous Sensory Garden. What's more, much of what you find there is edible, health-enhancing, and used in the school cuisine, especially the salads which now include colourful edible flowers and fresh picked herbs!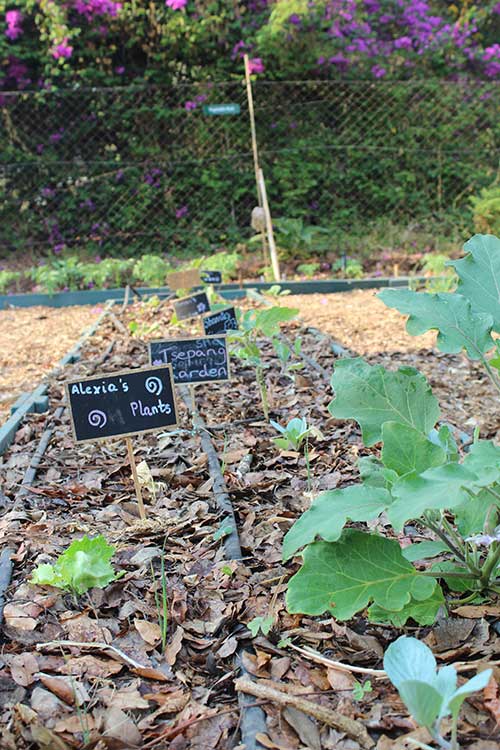 Behind and on the other side of the newly renovated Art Centre, Nicola, assisted by Sasha Roberts and other keen Chisi Mums, cleared gardening debris to create a Teaching Garden. It includes worm-farming, a fruit orchard, vertical gardening, and an outdoor classroom area used by students and teachers for lessons as diverse as maths, music, and more. The greenhouse itself has been given a thorough make-over, completely transforming this lovely space, which is fundamental to the garden's year-round success.
Funds were allocated from the Grade 5 Fund-Raising Committee; there are now 54 1m x 1m growing beds, each allocated to a girl who is studying agriculture, where she can grow what she pleases. And what they grow is a feast for both eyes and stomach! Each one metre square patch has its own little worm garden of recycled yoghurt pots. Recycling makes up a large component of the project: milk bottles, old plastic drainage pipes, bounding lines made from recycled plastic, wood chips edging the gardening blocks – you'll see all sorts of old materials finding new life here.
Nutritious food crops currently being grown include soya beans, wheat, haricot beans, chick peas and sugar beans. There is also an attractive array of hanging baskets of succulents and other drought resistant plants. The entire outfit is properly irrigated using drip, micro-jets and mist irrigation. No aspect of gardening has been forgotten in this project!
Everything the girls need to know to gain a good basic understanding of how to grow food – and other things – is covered, in this relatively small space. Even coffee beans are seen growing in the orchard and some of the girls recently harvested, roasted and brewed their own home-grown coffee!
Nicola's greatest passion is growing things you can consume; much of what the girls grow here is edible. However, the aesthetic and recreational aspects of gardening are not neglected either. The grade fours and fives who come through this programme will gain enough exposure to the fundamentals of agriculture, and gardening for pure pleasure, to carry this practice and knowledge through their lives. Some, of course, will find in this their passion and their lifetime joy!
Chisi Mums are still involved in the gardening lessons, with volunteers pitching in on Friday afternoons to help out and share their in-depth knowledge and love of gardening. They also donate plants and seedlings from their own gardens and from nurseries. It is truly a team effort.
This project aligns with the ethos and culture of this school, which embraces innovation and leads the way in trying out new and exciting projects, for the benefit and enjoyment of its pupils. The skills the girls will gain, and the joy found therein, will be in turn shared with generations to come. Hearty congratulations to all who have worked to turn this vision into reality, and in such a short space of time – proving that sheer enthusiasm is altogether a fruitful driving force!
More info at admin@chisijun.co.zw