BOOMERANG BAGS ZIMBABWE
By Cara Besomo
Since plastic entered the mainstream 70 years ago, global plastic pollution has risen to more than 8 billion tonnes and continues to rapidly rise.
Through importing goods packed with plastic materials, Zimbabwe is one of the highest producers of plastic waste in the SADC region. Research carried out by the Institute of Environmental Studies in 2014 indicated that only 12% of this plastic is recycled. The rest ends up in landfills, dumpsites, on the streets and in waterways.
In Zimbabwe, organisations such as Zimbo Green will collect your recyclables such as soft drink/beer cans, deodorant cans, juice and milk cartons, chip packets, glass bottles, egg cartons and so on for free. Taking advantage of free services like this means we are diverting waste from landfill that can be recycled, as well as lessening the burden and expense on council.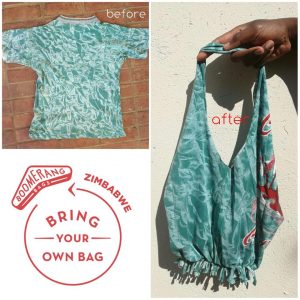 There are many great eco-friendly community initiatives that you can also get involved in. One of them is Boomerang Bags Zimbabwe, which I adapted from the Australian model and founded in July 2018. Boomerang Bags was established in Australia in 2014 as a community driven initiative tackling plastic pollution at a grassroots level. The initiative works to mobilise communities to make reusable 'Boomerang Bags' using recycled materials. In turn, these bags are then made available to the wider community as a sustainable alternative to plastic bags.  The bags are handmade by groups and volunteers from the local community who use donated second-hand materials thus keeping the initiative local and sustainable. It received notable positive response from local businesses and involved a huge level of community support.
After the first year there were over 300 active volunteers and the community had
collectively made 3 000 Boomerang Bags for use in their local area in Queensland, Australia. The concept of Boomerang Bags has now being implemented in over 400 communities worldwide. Collectively, the initiative has resulted in the creation of over 100 000 community-made Boomerang Bags, diverting 30 000 kg of waste from landfills.
Regular 'sewing bees' are a great opportunity for the community to get together for a positive environmental initiative. They also provide a hands-on learning environment allowing volunteers and groups to gain practical skills which will give them independence and benefit the community in the long term. The Boomerang Bags are then provided to the local community through market stalls, businesses, and pop-up events as a means to start a conversation about plastic, and encourage the sustainable behaviour of reuse.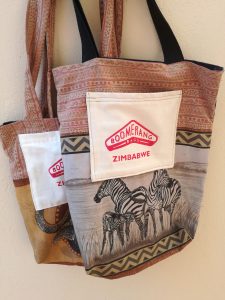 Currently, you can purchase Zimbabwean crafted Boomerang Bags at Waste Me Not Zimbabwe in Borrowdale, at African Apothecary in Greendale and at various events such as Kites for Peace and The Fair Trade Fair at HIS. You can also get involved in this movement by donating fabric at the drop-off donation box at Waste Me Not Zimbabwe, or follow the journey on Boomerang Bags Zimbabwe on Facebook and Instagram.
Other eco-friendly, sustainable practices that we can carry out at home and at work include:
Using refillable water bottles instead of purchasing single-use plastic ones; 
Avoid using plastic cutlery, plates and straws and push for compostable or reusable options to be provided instead;
Buy in bulk where possible, and take your own refillable containers;
Choose washable and reusable baby diapers and sanitary wear over disposable ones;

Say no to single-use plastic bags when doing your grocery shopping and take your own reusable shopping and produce bags instead.